BLANK DENTAL GROUP
---
Overview
Ohio dentist Dr. James Blank needed a brand overhaul and a net-new marketing strategy. After acquiring several Ohio office locations, he needed a way to streamline brand recognition and align each practice to his cutting edge approach to dentistry. His
original brands
, Advanced Dentistry and Powell Dental, were combined under a singular name:
Blank Dental Group
. From there, the mission was to visually illustrate the Blank Dental difference, centered around three core values: attention to technology, patient-centered care, and dedication to industry change.
Project Details
GDUSA 2020 Web Design Award

Scope: Branding, Website Design, Social Media

Role: Lead Designer // Brand Identity Development, Sitemapping + Website Design, Social Media Strategy + Content Development

Agency: MODintelechy
Copywriter: Moira Allen



---
Brand Identity
The smile-shaped mark speaks to the warmth and humanness of Blank Dental Group. Vibrant brand colors communicate the bright, joyous feelings that come with excellent care. These energetic colors, paired with modern black and white, balance radiance with sophistication and expertise. Streamlined, clean typography echoes both modernity and approachability. Photography is energetic, positive and people-focused. Each shot captures a candid moment of joy, meant to highlight the radiance that comes with a beautiful, healthy smile.

---
Website Design

This multi-site houses information for the umbrella Blank Dental Group brand, as well as information specific to each of the four BDG locations.
View Website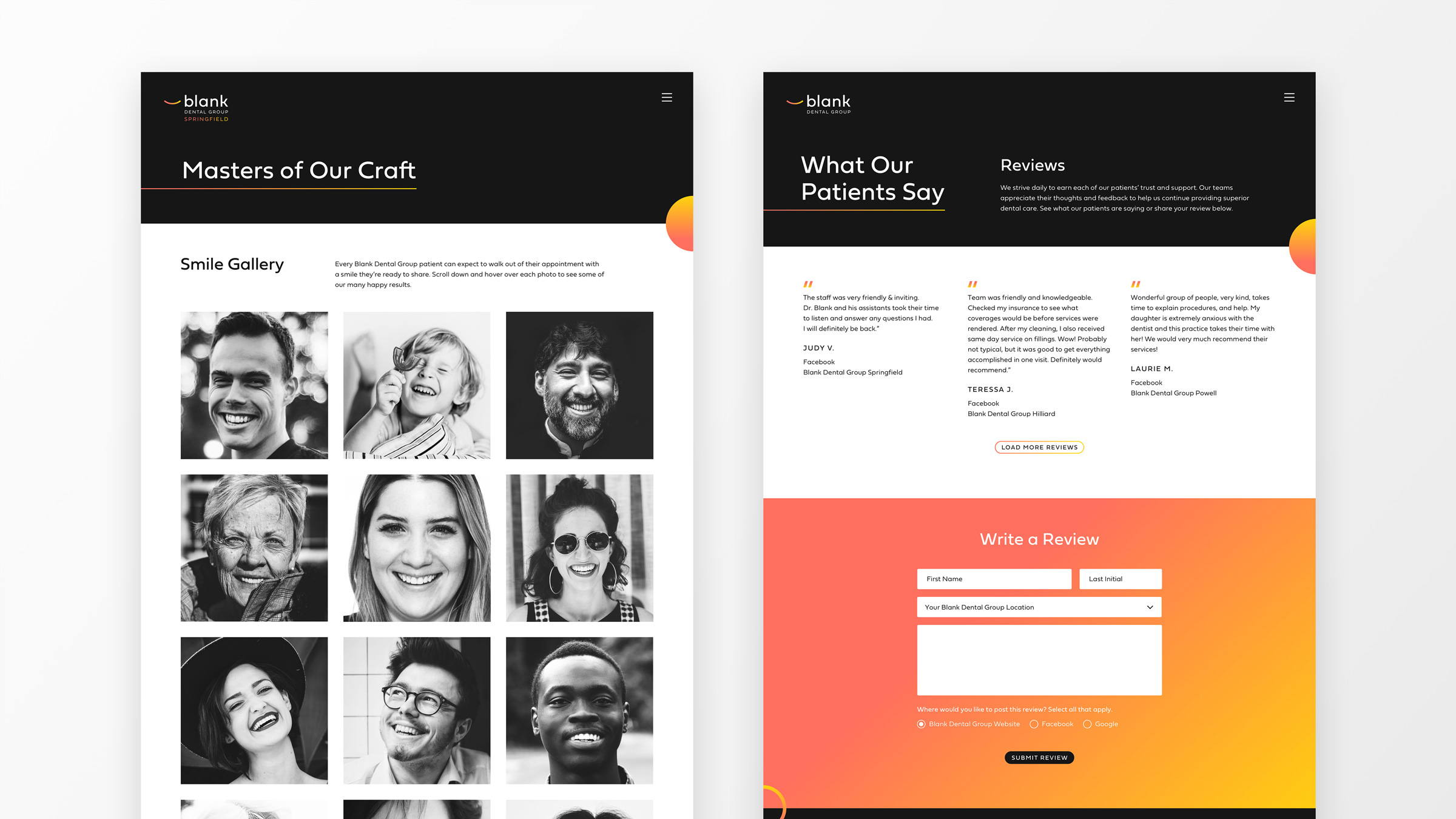 ---
Brand Extensions

"I could not imagine picking a better firm for our marketing needs than MODintelechy. Not only are they skilled in their specialty, but they are wonderful people—and the results are outstanding!"

—James Blank, Founder of Blank Dental Group